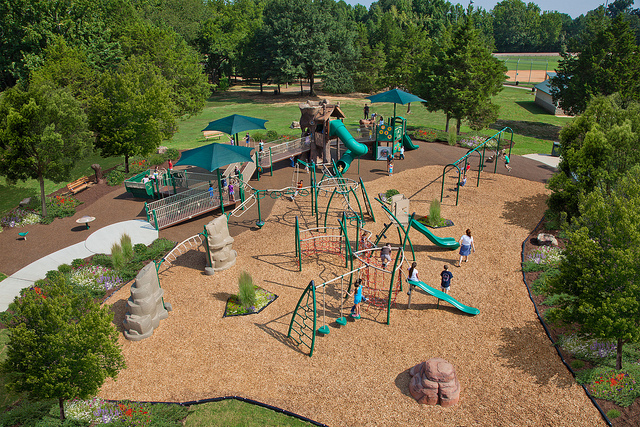 Germantown is a city in Shelby County, Tennessee. The population was 38,844 at the 2010 census.[3] Germantown is a suburb of Memphis, bordering it to the east. Germantown's economy is dominated by the retail and commercial service sectors; there is no heavy industry in Germantown. In the city center is the "Old Germantown" neighborhood, anchored by a railroad depot (a 1948 reproduction of the 1868 original) and railroad tracks that recall the community's earliest days of development as an outpost along the Memphis and Charleston Railroad. The city hosts many horse shows and competitions annually, most notably the Germantown Charity Horse Show in June. Other major annual events include the Germantown Festival, an arts and crafts fair, in early September. Germantown is known for having some of the most restrictive sign ordinances in the country, excellent fire and police services and well-maintained parks. In addition, Germantown is one of only 29 cities in the nation that maintains a triple-A Bond rating from both Moody's and Standard & Poor's. On November 27, 1994, an F3 tornado tore through eastern portions of Germantown, resulting in at least two fatalities, including at least one in one home where several families had gathered for a reunion.
Geography
Germantown is located at 35°5′20″N 89°47′38″W (35.089023, −89.793997).[5] It is part of the Memphis metropolitan area. According to the United States Census Bureau, the city has a total area of 17.6 square miles (46 km2), of which 0.04 square miles (0.10 km2), or 0.17%, is water.
Education
Public schools
Germantown's public schools have been operated by the Germantown Municipal School District since in the fall of 2014. Jason Manuel, former Principal at Houston Middle School was named the first Superintendent on January 6, 2014.[6] High schools include:
K–8 schools include:
Middle schools include:
Elementary schools include:
The following public schools are within the city limits of Germantown, but are operated by the Shelby County School System. Germantown residents who currently attend one of these schools can continue through High School and provided transportation by Shelby County Schools. These schools are commonly called "the 3Gs".
Germantown attempted to acquire these schools from Shelby County, but Shelby County decided to retain these schools.[7] Shelby County will add optional programs in order to attract students.[8]
Private schools
Demographics
As of the 2010 census,[11] there were 38,844 people, 14,910 households, and 11,750 families residing in the city, with 15,536 housing units. The racial makeup of the city was 89.54% White, 3.57% Black, 0.21% Native American, 5.15% Asian, 0.02% Pacific Islander, 0.42% from other races, and 1.07% from two or more races. Hispanic or Latino of any race were 1.89% of the population. There were 14,910 households, out of which 32.2% had children under the age of 18 living with them, 69.5% were married couples living together, 6.4% had a female householder with no husband present, 2.2% had a male householder with no wife present, and 21.9% were non-families. 19.7% of all households were made up of individuals and 9.0% had someone living alone who was 65 years of age or older. The average household size was 2.60 and the average family size was 3.00. In the city the population was spread out with 26.2% under the age of 20, 3.5% from 20 to 24, 19.2% from 25 to 44, 35.1% from 45 to 64, and 16.0% who were 65 years of age or older. The median age was 45.7 years. There were 18,800 males, of whom 14,023 were over the age of 18. There were 20,044 females, of whom 15,447 were over the age of 18. The median income for a household in the city according to the 2010 census was $112,979, and the median income for a family was $127,216. Males had a median income of $93,401 versus $54,592 for females. The per capita income for the city was $54,157. About 1.9% of families and 2.9% of the population were below the poverty line, including 2.8% of those under age 18 and 2.2% of those age 65 or over.
Churches
Notable people
This section needs additional citations for verification.

(April 2008)
Notable celebrities who currently reside or have previously resided in Germantown include: