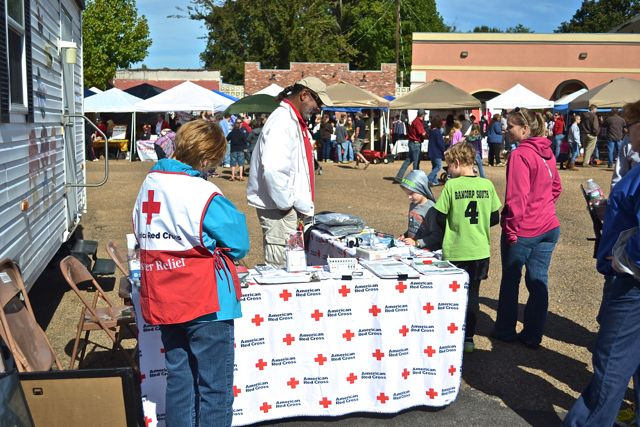 Oakland is a town in Fayette County, Tennessee. In 2010 the population of the town was 6,623, a gain of 417.8%, which was the largest gain of any municipality in the tri-state area of Memphis TN-MS-AR.
Demographics
[
edit
]
As of the census[1] of 2000, there were 1,279 people, 510 households, and 401 families residing in the town. The population density was 354.9 people per square mile (137.2/km²). There were 554 housing units at an average density of 153.7 per square mile (59.4/km²). The racial makeup of the town was 81.47% White, 16.50% African American, 0.31% Native American, 1.02% Asian, 0.47% from other races, and 0.23% from two or more races. Hispanic or Latino of any race were 1.56% of the population. There were 510 households out of which 33.9% had children under the age of 18 living with them, 67.8% were married couples living together, 8.2% had a female householder with no husband present, and 21.2% were non-families. 18.6% of all households were made up of individuals and 3.7% had someone living alone who was 65 years of age or older. The average household size was 2.51 and the average family size was 2.85. In the town the population was spread out with 23.9% under the age of 18, 9.6% from 18 to 24, 37.1% from 25 to 44, 20.8% from 45 to 64, and 8.5% who were 65 years of age or older. The median age was 31 years. For every 100 females there were 96.8 males. For every 100 females age 18 and over, there were 95.4 males. The median income for a household in the town was $51,823, and the median income for a family was $56,786. Males had a median income of $35,870 versus $23,929 for females. The per capita income for the town was $19,365. About 4.6% of families and 5.7% of the population were below the poverty line, including 9.3% of those under age 18 and 4.7% of those age 65 or over.
Politics
[
edit
]
In November 2008, Bill Mullins was elected mayor for his fifth term, beating rival Scott Ferguson in a narrow victory; the margin of votes between them just 15.[6] In July 2009, Mayor Mullins was arrested on charges of official misconduct and concealing evidence.[7] The following March, a jury found him guilty on three counts of official misconduct. Prosecutors said Mullins falsified documents to cover up payments made to his own business by the City of Oakland, after he had completed work on city owned vehicles at his privately owned repair shop, but did not document the $2,000 payment.[8] Mullins was sentenced to one year probation and prohibited from holding any elected or appointed office for 10 years.[9] In December 2009, the November 2008 election was ruled invalid after 23 people were found to have voted illegally.[6] In a follow-up election in 2010, Scott Ferguson was elected mayor.[10] In 2013, Mayor Ferguson—a former preacher—resigned from office after it was revealed he had two wives.[10]
Economy
[
edit
]
In June 2007, although much smaller in population than its counterparts, Oakland had the highest number of building permits issued for any suburb in the Memphis metropolitan area, including Southaven and Olive Branch, Mississippi, and Collierville, Tennessee. Retail Employs most of Oakland's Residents stores Located in Oakland, Include Walmart, Kroger and Fred's.